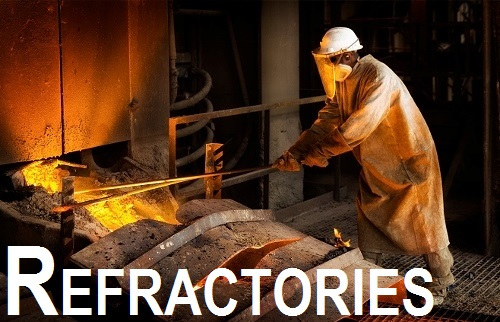 Course duration: 10 weeks
For the COURSE FEE send a request to imet@live.co.za
The course begins: Immediately after successful registration, which includes the full payment
The course in a nutshell:
10-week part-time short course presented online throughout the World.
Understand the role of refractories in industrial environments of high-temperature technologies/furnaces and how they influence metallurgical processes. Gain theoretical knowledge and skills in designing and installing furnace linings.
Award of the certificate:
Upon completion of all assignments of the Online Refractories course, students will be awarded a Certificate of Completion. Successful students (with 50% or more passing rate) will receive the Centre for Refractories Education certificate.
COURSE MODULES:
MODULE 1: REFRACTORY PRINCIPLES
Classification of refractories
The basic principle
Properties and testing
Standard properties
High-temperature properties
Chemical properties
MODULE 2: REFRACTORY MATERIALS
Manufacturing of refractory shapes
Aluminosilicate (acid) refractories
Corundum materials
Aluminosilicate raw materials
Properties of aluminosilicate refractories
Aluminosilicate bricks
Aluminosilicate monolithics
Silica
Silica products
Basic refractories
Magnesia
Magnesia bricks
Magnesia carbon
Magnesia-chromite
Magnesia-spinel
Magnesia-forsterite
Doloma (dolomite)
Basic monolithics
Zirconia and zircon
Non-oxide refractories
Carbon
Silicon carbide
Refractory metals
Thermal insulation products
Ceramic fibre products
MODULE 3: DESIGN AND INSTALLATIONS
Refractory lining system
Design
Selection and quality of refractories
Mechanical design
Thermal design
Insulating lining concept
High conductivity lining concept
Fibre lining design
Suspended lining design
Installation of refractory linings
Installation of pre-fired shapes
Installation of castables
Installation of gunning materials
Installation of plastics/mouldables
Installation of ramming materials
Anchorage
Commissioning of refractory linings
Who should attend this course?
The course is suitable for anyone who wants to acquire basic knowledge on refractories. More specifically, it benefits research, development and production Engineers, Technicians and Installers in metallurgical and high-temperature plants and smelters (iron, steel, ferroalloys, platinum, gold, copper, nickel, aluminium, foundries, chemical, petrochemical, glass, lime, cement (etc.) plants) as well as refractory suppliers, furnace builders and installers of refractory linings.
Who is your course instructor?
Paul Hloben is the Course Instructor and Examiner for the Online Refractories course. He is renowned refractory specialist with 30 years of experience. Paul Hloben is the author of REFRACTORY MATERIALS – Major Industrial Applications book, which, additionally to its worldwide sales, is the prescribed textbook at the Tswane (Pretoria) University of Technology and Vaal University of Technology. He is the publisher and editor of the Industrial Metallurgy magazine.
Who is your course organiser?
Academia Metallica is an online education subsidiary of the Industrial Metallurgy magazine offering online courses and education solutions. The organizer has no affiliation with refractories suppliers or manufacturers and therefore presents a completely unbiased factual view of the refractories industry.
We hope to welcome you to the course!
Academia Metallica accepts payments by direct deposit and electronic funds transfer (EFT). Students opting to pay by direct deposit and EFT are required to use their name and surname as a reference.
CONTACT DETAILS
Contact Person: Paul Hloben
Mobile: +27 (0)83 269-0667
Email: rexxonmedia@gmail.com
Please send all delegates names and details on the attached enrolment form and request an invoice and we will invoice accordingly. Payment must be received in full before registration will be confirmed.
Enrolment form: iRefractories Course
| | |
| --- | --- |
| Student: | Job Title: |
| Student: | Job Title: |
| Student: | Job Title: |
| Student: | Job Title: |
| Company: | Contact Person: |
| Tel: | Email: |
| Postal address: | |
| | |
Please send this form by e-mail imet@live.co.za or tel 083 269 0667.
Confirmation will only be sent upon receipt of full payment.
No refunds will be entertained.