Cobalt industry: Geographically concentrated in the DRC and Australia
The cobalt industry is highly geographically concentrated mine production-wise, with a single country, the Democratic Republic of Congo (DRC), accounting for 67% of the global supply in 2020, and "we expect this dynamic to continue over the coming decades, says Fitch Solutions. 
Along with this comes high supply chain risks as there are concerns linked to the DRC regarding political stability, labour issues, corruption and transparency. The next largest producers, Australia and Russia, account for just 4% of global cobalt mine output each. Generally, copper or nickel mining results in the production of a Copper-Cobalt (Cu-Co) or Nickel-Cobalt (Ni-Co) concentrate.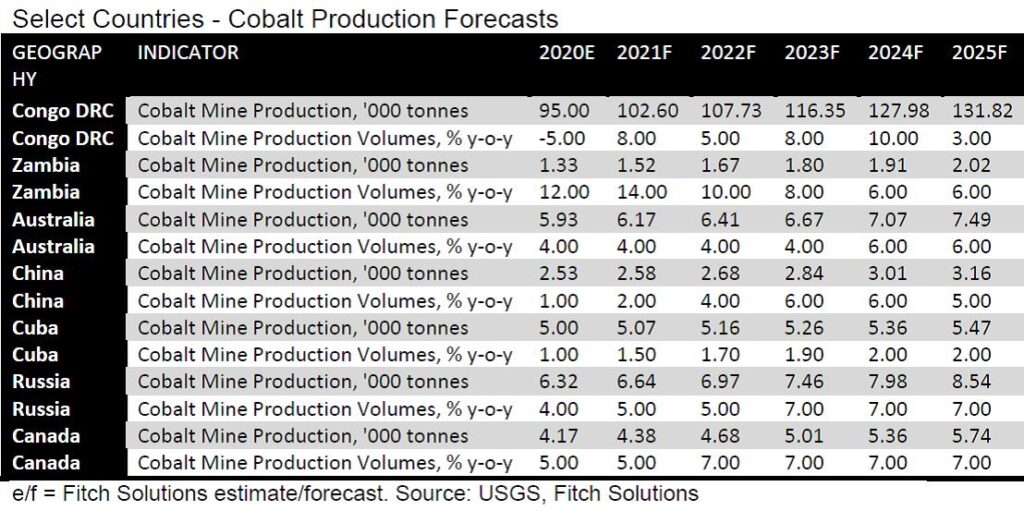 According to the USGS, global production of cobalt concentrates declined slightly in 2020 to 140kt from 144kt in 2019, although we expect output to grow substantially in the coming years. This concentrate is then processed into an intermediate, mostly crude cobalt hydroxide, which is in turn processed into refined cobalt, mainly chemicals (mostly cobalt sulphate) that are utilised in batteries and other applications.
While the intermediate processing is mostly done where the cobalt is mined, mainly in the DRC, this is then exported overseas for refining. Within refined cobalt, there are five main types of cobalt metal products (cathode, briquette, coarse powder, fine powder, and rounds) and eight main types of chemical products (carbonate, chloride, hydroxide, monoxide, oxalate, oxide, sulphate and tetroxide).
Cobalt refining is also highly concentrated in a single country, China, which will broadly remain the case. There are new cobalt refining projects underway globally that will work to reduce China's market share to a limited extent. China accounts for 66% of global refined cobalt output, followed by Finland (10%).
Both countries rely on imported feedstock from the DRC for their refining operations.
Global production of refined cobalt totalled 132kt in 2020, down 5% from 2019 levels. Cobalt recycling (mainly from the recycling of batteries) is also a fast-growing and important source of cobalt feedstock to the supply chain.
In the Fitch Solutions view, the main impediments to a smooth supply chain dynamic for cobalt is the lack of transparency in the cobalt market, and limited refining capacity outside China, which will continue to pose challenges for a time to come even if actual global supply is sufficient. 
In addition, the cobalt supply chain is increasingly mired with ongoing concerns over environmental, social and governance (ESG) risks. In recent years, battery makers have strived to reduce the cobalt content in batteries due to supply issues and ESG concerns, instead using nickel-rich cathode chemistries.
In late 2020, Tesla Inc. also announced that it would move to a cobalt-free battery, although no time frame was given. Nevertheless, despite these issues, substitution for cobalt could result in a loss in product performance or an increase in cost, both of which will continue to bolster cobalt demand, prices and thus supply.
The DRC will remain the key global supplier of cobalt concentrates and intermediates for the foreseeable future. The country is by far the world's largest producer of cobalt, having produced 95kt in 2020 (68% of global production), and holds more than half of the world's reserves of cobalt.