The chromite and ferrochrome markets were forecast to rebalance in 2020, following closures and cutbacks in production from key producers as low prices persisted throughout 2019.  The outbreak of COVID-19 over Q1 2020 has already begun to ripple through the chromium industry. With the Chinese steel industry returning its furnaces into operation, available chromite stocks will only account for three months of demand, should supply be limited from South Africa and other producers moving into lockdown in order to curb the spread of COVID-19. Even if the lockdown period can be limited, the impacts of COVID-19 will likely accelerate the rebalancing expected for the chromium industry in 2020.
After several years of 4-10%py growth in demand driven by stainless steel production, the longer-term chromium market is forecast to move into a period of more modest demand growth of 2-3%py.  How is demand likely to be impacted by COVID-19? Roskill is tracking the macroeconomic data on an ongoing basis and updating its forecast assumptions with high- and low-case scenario analysis for the chromium industry.
Chromium is sourced from the mineral chromite, its only currently economic occurrence.  Chromite is used directly in industrial foundry and refractory sands or converted into sodium dichromate for further refinement into other chemicals and chromium metal, but the main consumption is in ferrochrome furnaces to produce an alloy used by the steel industry.  Over 95% of chromium consumption is attributable to metallurgical applications, with stainless steel alone represented 78% of consumption in 2019.  Trends in stainless steel production are, therefore, the main determinant for chromium demand.
South Africa hosts over 75% of the world's chromite reserves and resources and accounts for approximately 60% of annual global chromium ore production.  Kazakhstan, India, Turkey, Finland and Zimbabwe together account for over 30% of global chromite supply, making up the rest of the key producers.  High prices in early 2017 encouraged large volumes of additional supply from South African and over the three years that followed production increases have outpaced the growth in demand from the steel sector, solidifying a structural surplus that has suppressed prices.
Prices for chromite and ferrochrome have fallen to below the 50th percentile of their respective cost curves towards the end of 2019, making the majority of production unprofitable. The low prices have been underpinned by weak markets and growing stainless steel inventories, but also by additional low-cost by-product chromite, extracted from tailings of the platinum group metal (PGM) UG2 reef mined from South Africa's Bushveld Igneous Complex.  UG2 chromite supply grew at double-digit rates for a consecutive year in 2019, while primary chromite production in South Africa declined for the first time since 2011.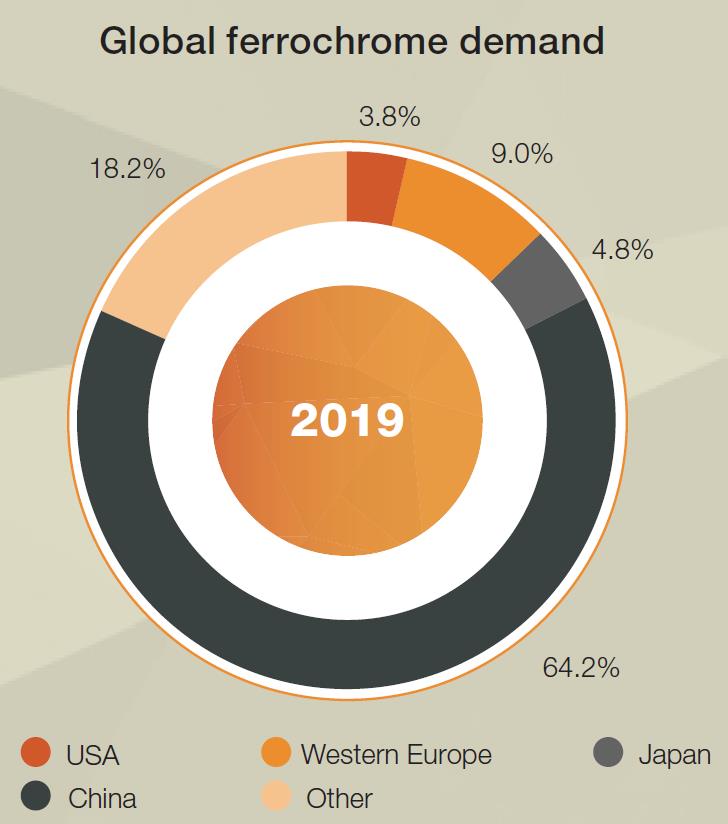 The growth in chromite supply over the last two decades has closely followed developments in China, where increasing ferrochrome capacity (requiring imported feed) to service the country's stainless steel industry has outpaced other producing regions.  China has grown to account for 45% of global ferrochrome production in 2019 and Roskill forecasts its market share to jump to over 50% as non-Chinese stainless steel production stagnates and existing ferrochrome producers outside of China face challenges from declining markets, hiking electricity prices and, looking forward, potential competition from Chinese producers.
The niche chromium chemical and refined metal markets accounted for just below 3% of the total market in 2019.  Prices for these niche products have followed different trends to chromium ores and ferrochrome, with chromium metal having reached a potential price floor in Q1 2020.  The low metal price together with surplus chromium chemical supply saw sodium dichromate prices correct downwards, after following a steady upwards trend since 2017.