Top 10 copper producing countries in 2021
Based on the preliminary data released by the U.S. Geological Survey (USGS), estimated global mine production of copper was 21 million tonnes in 2021, or 2% higher than in 2020 (20.6 million tonnes).
USGS added that global refined copper production increased by 3% to an estimated 26 million tonnes in 2021 from 25.3 million tonnes in 2020, when output in multiple countries was affected by temporary smelter shutdowns for maintenance and upgrades.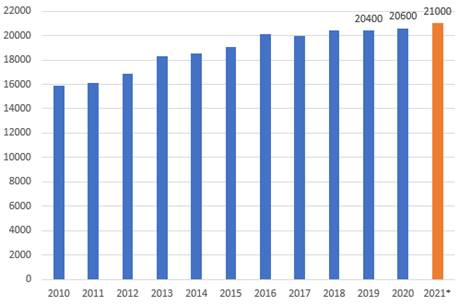 Global mine copper production has hovered around 20 million tonnes level over the past five years and this fact raises concerns about a sustainable supply of primary copper for the variety of industries.
With ~5,600 ktonnes of copper mined in 2021, Chile was the top copper producer worldwide, followed by Peru (2,200 ktonnes) and China (1,800 ktonnes).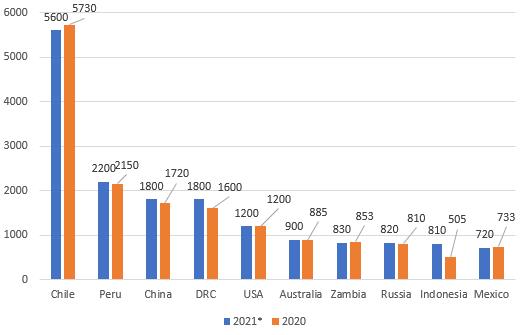 USGS also added that based on data through October, the annual average COMEX copper price was projected to be about $4.20 per pound in 2021, an increase of 50% from that in 2020 and 5% greater than the previous all-time high of $4.01 per pound in 2011.
Strong global manufacturing activity, constrained growth in world copper production, low stockpiles, and supply constraints owing to shipping delays contributed to the increased copper price.