Advertise on this daily newsletter – Become a trusted industry supplier.
Mineral Processing & Metallurgy (Min-MET.com ) is South Africa's primary source of daily news on mining and metallurgical developments. Mineral Processing & Metallurgy also provides the most comprehensive coverage of mining projects, latest technology developments, and mining as well as metallurgical equipment, services, instrumentation, automation & IT, and product updates.
The publication is an essential source of information for those involved in the mining, processing and metallurgical sectors.
ADVERTISE WITH US AND REACH THOUSANDS OF MAJOR DECISION MAKERS
Every month, Min-MET.com reaches an audience of tens of thousands influential decision-makers in mining, mineral processing and metallurgical industries in South Africa and beyond, through a variety of channels, including an interactive newsletter, website news, products and service portal, videos and social media (Facebook and LinkedIn).
Advertising on our daily newsletter as well as on Min-MET.com is an effective and powerful way to build your brand, showcase your products and services and imprint your company profile among clients and prospective clients.
We would love to hear from you!
If you would like to get more information, please feel free to contact us. You can do so by either contacting our offices on +27-83-269-0667, or by simply mailing us to RexxonMedia@gmail.com
ADVERTISING RATES

and dimensions (width x height in pixels)
The advert will be shown on both DAILY NEWSLETTER and WEBSITE MAGAZINE Min-MET.com
Rates quoted are per month, excluding VAT, bookings are per quarter (3 month) period increments
TOP BANNER: 728×90 pixels R4300 (US$400) position in the main body, not on top
RECTANGLE BANNER: 300×250 pixels R4500 (US$410)
RECTANGLE BANNER: 300×200 pixels R4200 (US$390)
RECTANGLE BANNER: 300×150 pixels R3700 (US$360)
RECTANGLE BANNER: 300×100 pixels R3400 (US$330)
LEADERBOARD: 728×90 pixels R6900 (US$620) position on top (when available)
All the above prices in ZAR exclude VAT. No VAT(tax) charged for bookings from outside South Africa.
BELOW:

Examples of advertising banner placements (home page)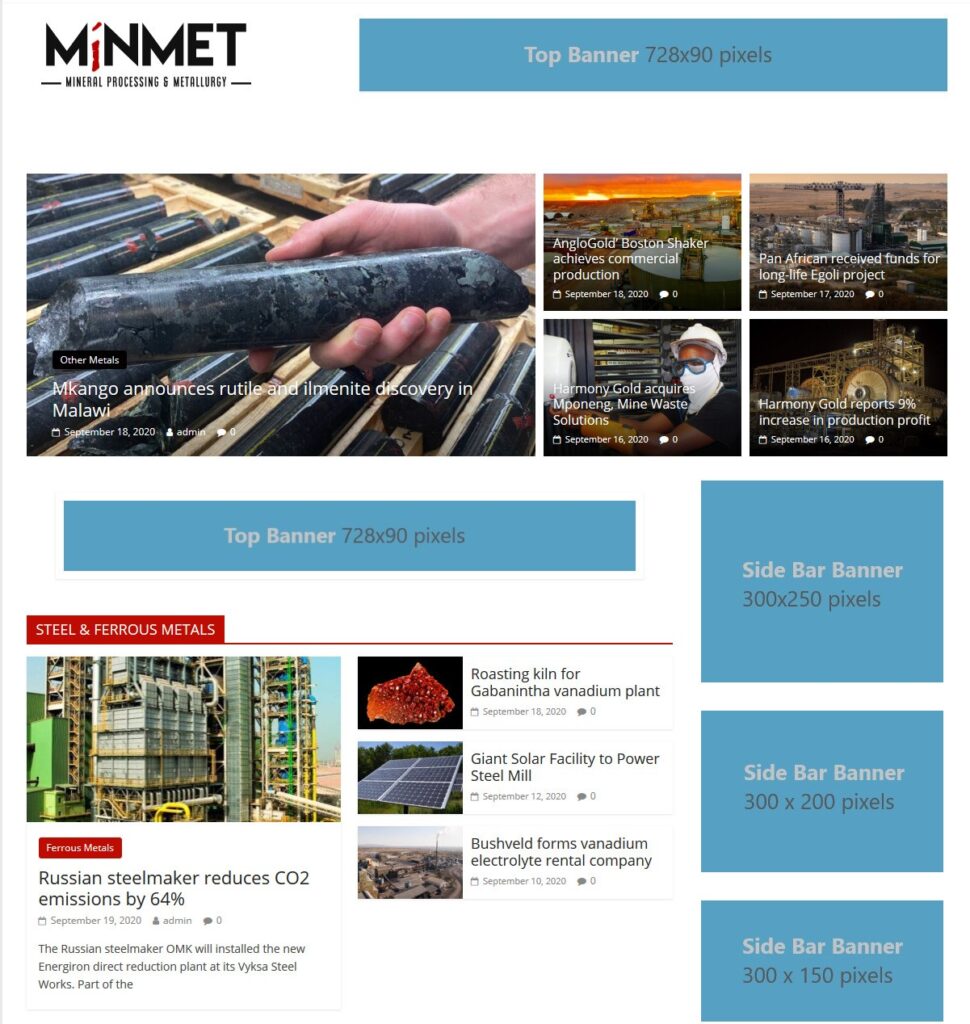 BELOW:

Examples of advertising banner placements (other pages)