Price of iron ore touches USD 190 mark
Iron ore prices rose further on 20 April to inch closer to last high of USD 191.7 seen 11 year ago with benchmark physical 62% Australian iron ore fines increasing by USD 7.8 per tonne to USD 189.61 per tonne CFR Qingdao, spurred by robust steel profit margins of about CNY 750-1100 per tonne (USD 120-160) in China and disappointing shipment figures from major miners Rio Tinto, BHP and Vale.
Put together, iron ore supplies from Rio Tinto BHP & Vale were lower by about 30 million tonnes in January-March 2021 as compared to October-December 2020.
JANUARY-MARCH 2021 IRON ORE SALES
Rio Tinto – 77.8 million tonnes, -12% QoQ
BHP – 66.032 million tonnes, -7% QoQ
Vale – 59.298 million tonnes, -28% QoQ
 As the USD 7.8 increase on Tuesday was driven by news of about 26 million QoQ shortfall from Rio Tinto & Vale, yesterday's announcement of about 5 million tonnes QoQ shortfall in sales by BHP could further propel iron ore towards all time high of USD 197 seen in February 2008.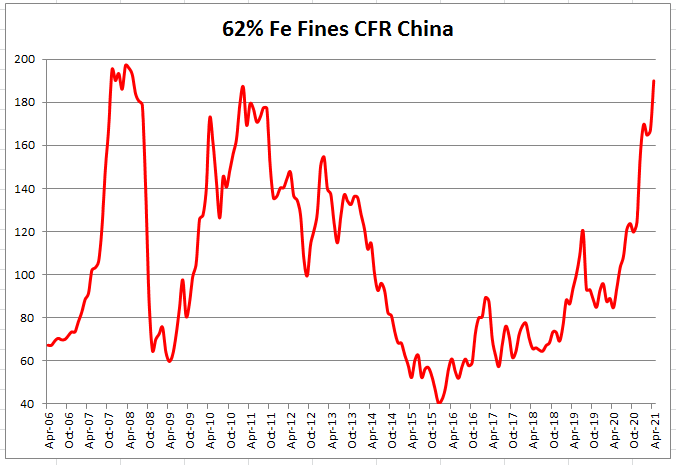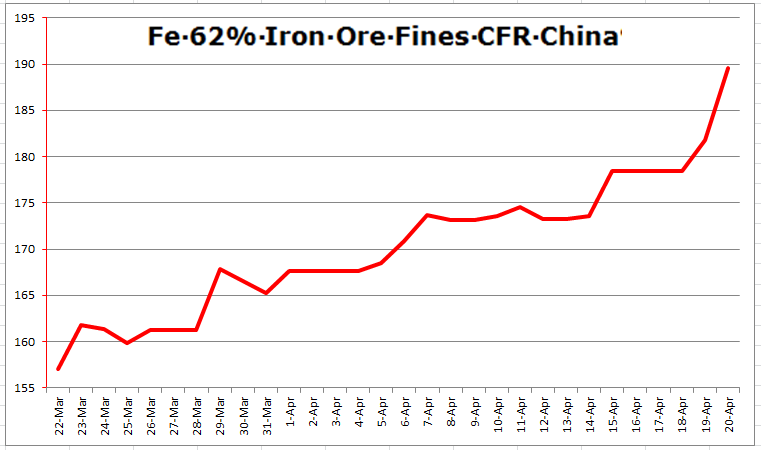 However Rio Tinto, BHO & Vale have maintained full year guidance
Rio Tinto – 325-340 million tonnes
BHP – 276-286 million tonnes
Vale – 315-335 million tonnes
Top 3 – 916- 961 million tonnes