Ukraine war affects Russia exports of copper
Sanctions imposed by Europe and the US on Russia are adopted along with the serious Ukraine crisis. In addition to nickel, aluminium, tin and other varieties with relatively high output in Russia, the market is also concerned about the impact on the copper industry. Russia is a big exporter of copper resources with its refined copper output accounting for 4% of the world consumption.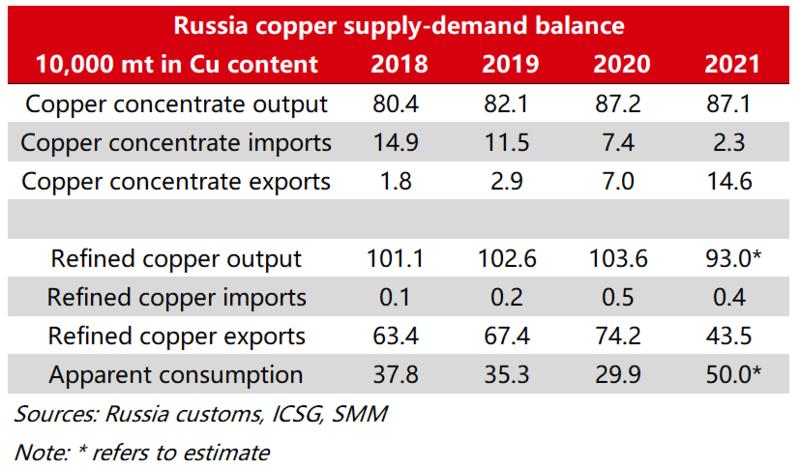 Russia's refined copper mainly goes to European customers and a certain amount of copper flows into LME warehouses in Europe. Besides Europe, Russia refined copper is also exported to China and the US. The proportion of refined copper exported to China has been expanding rapidly. In 2021, China surpassed the Netherlands and became Russia's first trading partner in terms of refined copper exports. In 2021, the Russia refined copper exported directly to China was 140,000 mt, accounting for 32% of Russia's total exports.
Russia also exports copper concentrate to China, and China is its main trading partner. According to China's customs statistics, China imported 429,000 mt of copper concentrate from Russia in 2021, but it only accounted for 0.18% of China's total imports. The imported copper concentrate from Russia was transported to Gansu, Henan, Inner Mongolia, Yunnan, Fujian and other regions.
The Russia-Ukraine conflicts and packages of sanctions imposed by the US and the Europe against Russia have the following impact on copper transaction in the world:
First of all, overseas demand, especially in Europe and the US, for Russian copper-related products will decline. Besides, Russia's export of copper will also decrease in the short term, because Russia's efficiency in customs clearance and logistics of export commodities will drop in such a period. Moreover, Russian copper smelters may reduce their output amid the influence of temporary export tariff policy last year and the increased inventories in Russia.
Secondly, the overseas financing role of Russian copper will drop sharply. According to Bloomberg, some banks stopped opening US dollar letters of credit for purchasing Russian commodities ready for export. This action will lead to a sharp drop in the importer's demand for Russian brands. According to SMM, some Russian copper was transferred to LME warehouses for delivery. However, the shipment of copper was very limited due to less containers and ships available.
Finally, Russia-Ukraine conflict directly leads to the decline of copper cathode supply in Europe in the short term. The serious logistics problem in the Black Sea caused by the conflict hindered the export of refined copper from Kazakhstan and Uzbekistan to Turkey, France, Britain and other European countries.