BOOK: Refractory Materials – Major Industrial Appplications
The print editions are now sold out and we offer it as an eBOOK pdf file. That made it possible to bring down the price from R499 to R299 including VAT. the book will be sent to you by WE TRANSFER.com after receiving your payment. If you prefer to receive it on a memory stick, there will be a surcharge of R150 for the stick and couriered delivery.
This book has been sold worldwide; the first edition being printed in 2000 (hard cover) and the second edition in 2011 (soft cover+updates).
Please email your order/inquiry to the address as per the advert below. For more info refer to the advert below.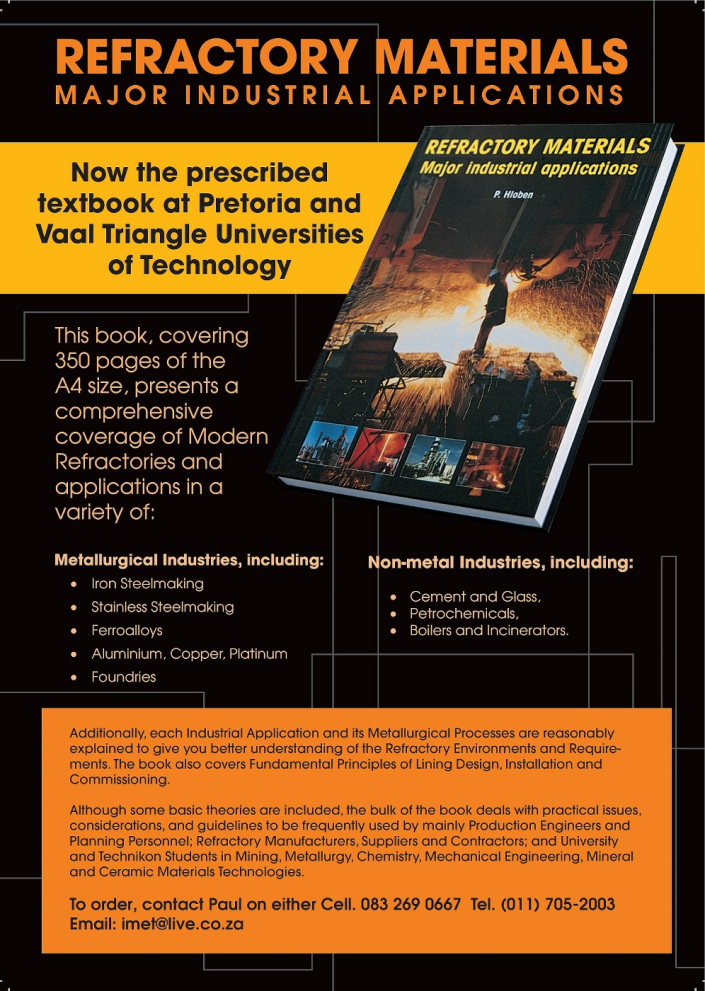 CONTENTS
FOREWORD 6
EVOLUTION OF REFRACTORIES 7
Chapter 1: REFRACTORY PRINCIPLES 10
Classification of refractories10
The basic principle14
Properties and testing • 15
Standard properties16
High temperature properties18
Chemical properties22
Chapter 2: REFRACTORY MATERIALS 25
Manufacturing of refractory shapes25
Corundum materials29
Aluminosilicate raw materials31
Properties of aluminosilicate refractories 37
Aluminosilicate bricks42
Aluminosilicate monolithics45
Silica53
Silica products57
Basic refractories60
Magnesia60
Magnesia bricks66
Magnesia carbon66
Magnesia-chromite70
Magnesia-spinel73
Magnesia-forsterite75
Doloma (dolomite)76
Basic monolithics79
Zirconia and zircon80
Non-oxide refractories82
Carbon82
Silicon carbide85
Refractory metals87
Thermal insulation products90
Ceramic fibre products91
Chapter 3: DESIGN AND INSTALLATIONS 95
Refractory lining system95
Design95
Selection and quality of refractories97
Mechanical design99
Thermal design103
Insulating lining concept106
High conductivity lining concept107
Fibre lining design108
Suspended lining design111
Installation of refractory linings113
Installation of prefired shapes113
Installation of castables118
Installation of gunning materials123
Installation of plastics/mouldables125
Installation of ramming materials126
Anchorage127
Commissioning of refractory linings130
Chapter 4: IRONMAKING INDUSTRY 133
Coke ovens134
Refractory requirements for coke ovens 135
Blastfurnaces140
Refractory environments in blast furnaces 142
Lining concepts145
Refractory materials147
Blast furnace stoves151
Taphole clays for blast furnaces153
Troughs and runners for blast furnaces 154
Torpedo ladles156
The Corex furnace158
Direct reduced iron160
Chapter 5: STEELMAKING INDUSTRY 165
Steelmaking-overview165
Role of refractories in steelmaking167
Electric arc furnace172
EAF refractory linings174
EAF installation178
Maintenance179
Basic oxygen furnace181
Refractory requirements for BOF182
Wear mechanism183
Refractory linings185
Design186
Maintenance188
Installation190
Stainless (high-alloy) steel vessels193
Stainless steel plant193
Refractory linings195
Ladle metallurgy197
Casting ladles197
Purging plugs203
Sliding gates203
Ladle furnace207
RH Degasser207
Continuous casting210
Tundish linings211
Shrouds/Submerged entry nozzles214
Casting powders215
Reheating furnaces217
Wear mechanism219
Installation220
Maintenance221
Chapter 6: FERROALLOY INDUSTRY 222
Process furnaces222
Ferrochrome225
Ferromanganese and silicomanganese 227
Ferrosilicon and silicon metal229
Refractories for ferroalloys229
Refractories for rotary kilns231
Refractories for arc furnaces231
Refractories for ladles and moulds235
Refractories for converters236
Chapter 7: ALUMINIUM INDUSTRY 239
Primary aluminium239
Refractories for reduction cells240
Carbon baking furnaces243
Secondary aluminium246
Refractory requirements247
Reverberatory furnaces249
Chapter 8: COPPER INDUSTRY 253
Smelting stage254
Converting stage256
Refractory requirements258
Reverberatory furnace260
Flash smelting furnace261
Converter262
Anode refining furnace263
Chapter 9: PLATINUM INDUSTRY 266
Refractory requirements and wear mechanism 269
Refractory materials270
Six in line furnaces270
Pierce-Smith converters272
Chapter 10: FOUNDRIES 274
Foundry furnaces274
Refractory environments276
Refractory requirements278
Induction furnace linings279
Cupola furnace linings281
Arc furnace linings284
Resistant crucible furnaces285
Chapter 11: GLASS INDUSTRY 288
Glass furnaces288
Refractory requirements289
Melter290
Melter floor291
Melter tank blocks and ports292
Melter walls, crown and throat293
The refiner and foreheads294
Regenerator294
Chapter 12: CEMENT INDUSTRY 298
Cement kiln technology299
Wear mechanism300
Refractory requirements304
Rotary kiln305
Sintering zone refractories308
Preheaters and clinker coolers312
Installation and maintenance313
Curing, drying and heat up318
Preventive maintenance319
Chapter 13: PETROCHEMICAL INDUSTRY 321
Refractory requirements322
Installation325
FCCUs327
Carbon black329
Chapter 14: BOILERS (Power Generation and Incinerators) 331
Combustion process and refractories 331
Refractory requirements333
Boilers333
Incinerators334
Installation and repair337
GLOSSARY OF TERMS 340
BIBLIOGRAPHY 347
AUTHOR: Paul Hloben
REFRACTORY MATERIALS
MAJOR INDUSTRIAL APPLICATIONS
ISBN 0-620-25867-5
1st edition 2000
2nd edition 2011
Copyright © Paul Hloben 2000 – 2011
Published by Rexxon Corporation
TO ORDER PLEASE CONTACT
Cell/Mobil ++27 83 269 0667
E-mail: rexxonmedia(at)gmail.com
COPYRIGHT NOTICE
Except for normal review purposes, it may not be reproduced in whole or in any part and in any form whatsoever without the prior permission of the publisher.
DISCLAIMER
The information provided in this book should not be used in relation to any specific industrial application without a thorough examination and investigation of the problem. The author and the publisher, therefore, do not accept any responsibility arising from such action.