Rand Refinery restarts smelter after Corona Virus lockdown
Rand Refinery has turned on the start button on its gold smelting plant in line with Level 4 lockdown regulations as the South African government gradually relaxes the national lockdown, to partially restart the economy amid the COVID-19 pandemic, CEO Praveen Baijnath said.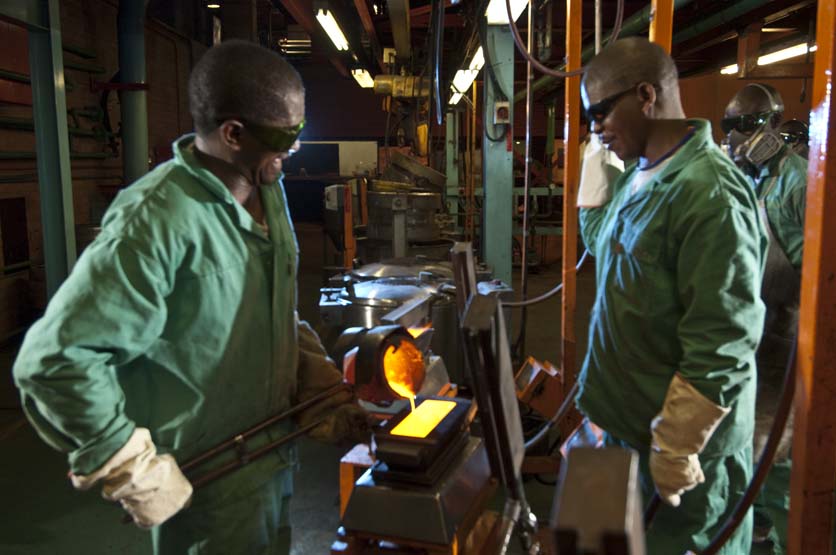 The company announced that due to the lockdown that started on March 27, Rand Refinery would shut its smelter and significantly scale down its gold refining during South Africa's 21-day lockdown over coronavirus. The gold refiner had cut the refinery's capacity to about  60%.
Rand Refinery, which produces between 250 and 280 tonnes of refined gold a year, said, it was primarily processing residual surface materials from SA gold mines and mine doré received from Rand Refinery's rest of Africa established gold mines during the lockdown.
The shutdown was later extended to 31 April.
Established by the Chamber of Mines of South Africa in 1920, Rand Refinery is one of the largest integrated single-site precious metals refining and smelting complex in the world.
Rand Refinery offering extends across the precious metals value chain and begins with world-class smelting, evaluation, refining and recovery of precious metals that have been responsibly sourced. From there, the company fabricates a variety of products for investment and retail clients.
Smelting service. Established in 1966, to recover Au, Ag, Pt and Pd from mine by-products and Rand Refinery's own sweeps, the smelter sources materials from customers domestically and from international customers in Africa, Australia, Far East, Middle East, North and South America. Equipped with both Pyro and Hydro metallurgical capabilities, the smelting complex is capable of treating the following materials: borax slags, flue dusts, pc scrap, milled concentrates, carbonaceous materials, refinery sweeps, copper anode slimes, etc. The integration of smelter and refinery offers an opportunity of a one stop shop for material processing and precious metal recovery.
Rand Refinery, acting as an agent for its precious metals depositing customers, also provides 24-hour turnaround assaying and state-of-the-art vault and logistics services.
"Following an induction process for returning employees, the smelter for the arc furnace will be restarted this week and then ramped up," Baijnath said.