Ferrochrome production suffers due to unrestricted exports of chrome ore
The increasing and unrestricted exports of chrome ore from South Africa is also contributing to displacement of ferrochrome volumes from South Africa.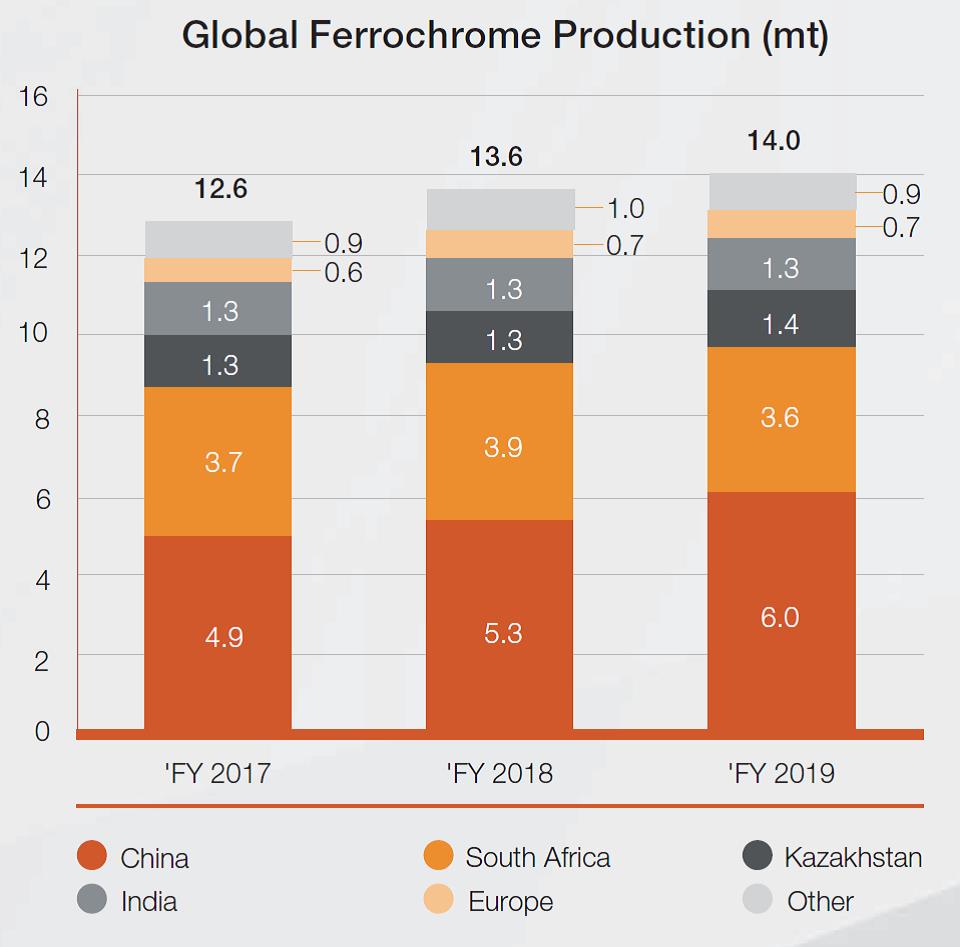 Key statistics for 2019
Global ferrochrome production increased from 13.6 million tonnes in 2018 to approximately 14 million tonnes in 2019.
Ferrochrome demand increased from 13.3 million tonnes in 2018 to 13.7 million in 2019.
South Africa produced approximately 3.6 million tonnes of ferrochrome in 2019 (2018: 3.9MT).
China imported approximately 79% of its chrome ore in 2019, from South Africa (2018: 76%)
Over 75% of the world's chrome reserves are in South Africa. South African chrome industry provides approximately 200 000 direct and indirect jobs. Around 35% of the world's ferrochrome production of 13.7 mt was supplied by South Africa in 2019.
Challenges faced by South African ferrochrome producers.
Increasing production costs – electricity – labour
Socio-political challenges
Legislative uncertainty
Commodity prices and demand
Chrome ore exports
Electricity supply
Logistics
Stainless steel production is expected to grow by 3.2% in 2020, however, both chrome and ferrochrome prices are expected to remain under pressure in the short term due to oversupply. The growth forecasted does not factor in the possible impact of COVID-19 (Coronavirus) and load shedding which is expected to last for 18 to 24 months.
Ferrochrome production and its role in stainless steel
Produced by high-temperature reduction (smelting) of chromite, ferrochrome contains iron, chrome, minor amounts of carbon and silicon, and impurities such as sulphur, phosphorous and titanium. Chrome brings critical properties to the metals with which it is alloyed. Add it to carbon steel in the form of ferrochrome and the steel becomes 'stainless' – corrosion resistant, mechanically strong, heat resistant, hard wearing and shiny. Stainless steel is used almost everywhere in modern life from nuclear reactors to exhaust pipes, architecture, kitchenware and a host of other applications.
Specialty steels produced for applications such as tools, injection moulds, camshafts, etc also derive the high mechanical strength, hardness and heat-resistance required from their chrome content.